The Dress of Christmas Dreams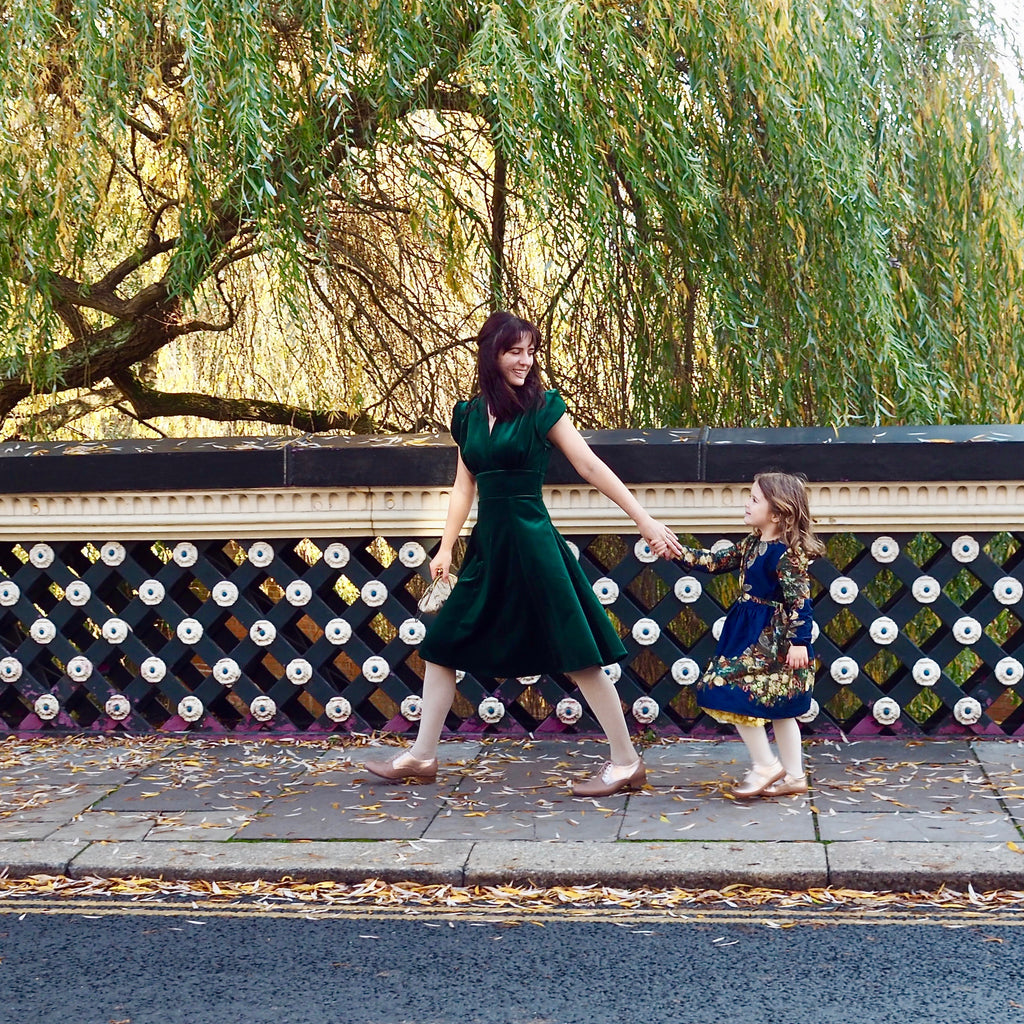 Our latest adventure takes us to the ancient English town of Eton. Carly, of the wonderful food and lifestyle blog Facepaint and Flavour, has captured some very special autumnal moments with her daughter Annie. We spoke to Carly about family life in the South of England, her thoughts of confidence and creativity as a parent and just how deeply she has fallen in love with her new Palava dress!
In your own words, your Rita Green Velvet is your "dress of dreams". Tell us more!
"When I saw the gorgeous model on the Palava instagram feed in this dress - I had to have it! It goes in and out in all of the right places - a lovely pinched waist with a full, swishy skirt, and ruched shoulders to make the perfect 1950s silhouette. The velvet is just dreamy - I can't wait to dance my way through Christmas in it! I wasn't going to wait for that to wear it though… this dress is going to stay in my wardrobe for a long time. My daughter already wants to know when she can wear it!"
You live near Windsor and Eton - two beautiful, quaint British towns. Tell us about life in the south of England and how you spend family time together.
"Windsor and Eton are the perfect balance for us between city and country life. We have the cobbles and history of our twin towns in easy reach of London; plus the expanse of the deer-trodden Royal Estate on our doorstep. If you're visiting I'd highly recommend heading further than the Castle walls to find some of our favourite 'secret' weekend spots away from the crowds like the quirky little museums of Eton College (only open on Sunday afternoons) or the independent shops, cafes, bakeries and farmers market of St. Leonard's Road. Along the way, you might spot vintage postboxes, royal statues or soldiers preparing for the guard change. In December Windsor hosts a 'Living Advent' of short performances around town each evening, so I hope we will get to see some of those."
What's your approach to encouraging confidence and creativity in Annie? 
"I'm not sure if I encourage her, or if she encourages me! She doesn't ask "can I do this?" she asks "when can I do this?", which is more profound than she knows! I love that the world seems to her to be full of possibilities that are hers for the taking."
What are your favourite things to do together?
"I love to share my passion for cooking with her - so long as she gets to lick the spoon after a batch of cupcakes, she's happy. She's happier still when I make time to craft, colour and paint with her. I like to try and think of seasonal activities we can share like leaf-kicking walks or making decorations for a celebration. Luckily she's very patient when mummy wants to get the camera out for such occasions - I think it's important that she sees her parents making time for their own favourite creative pursuits outside of work, and that we support each other to do it."
Christmas is coming up, and it's a busy buying season for most households. How does shopping ethically influence your buying choices, not just at this time of year - but all year round?
"We are still on a journey with this, as we learn more each week about the environmental and human impact of the things we buy. I am trying to make small changes that reduce waste. Reusing items is a big theme for us - from the shopping bags that come with us (I have a Palava tote made from fabric remnants!), to the box our weekly vegetable delivery comes in. Lots of the children's toys are charity shop 'treasures', as are some of my things including clothes and kitchenalia  - there's a great Vintage & Retro charity shop in Windsor where I picked up some sparkly accessories for my Rita dress. There's lots of inspiration to be taken from times before disposable items were ubiquitous - for one I've rediscovered the joy of a flask of hot cocoa on a winter walk!"
We hope you loved reading more about Carly and Annie as much as we did! Click on the links below to see more of the dresses they wore on their grand day out!
---