Feathers, Foxes and Pumpkin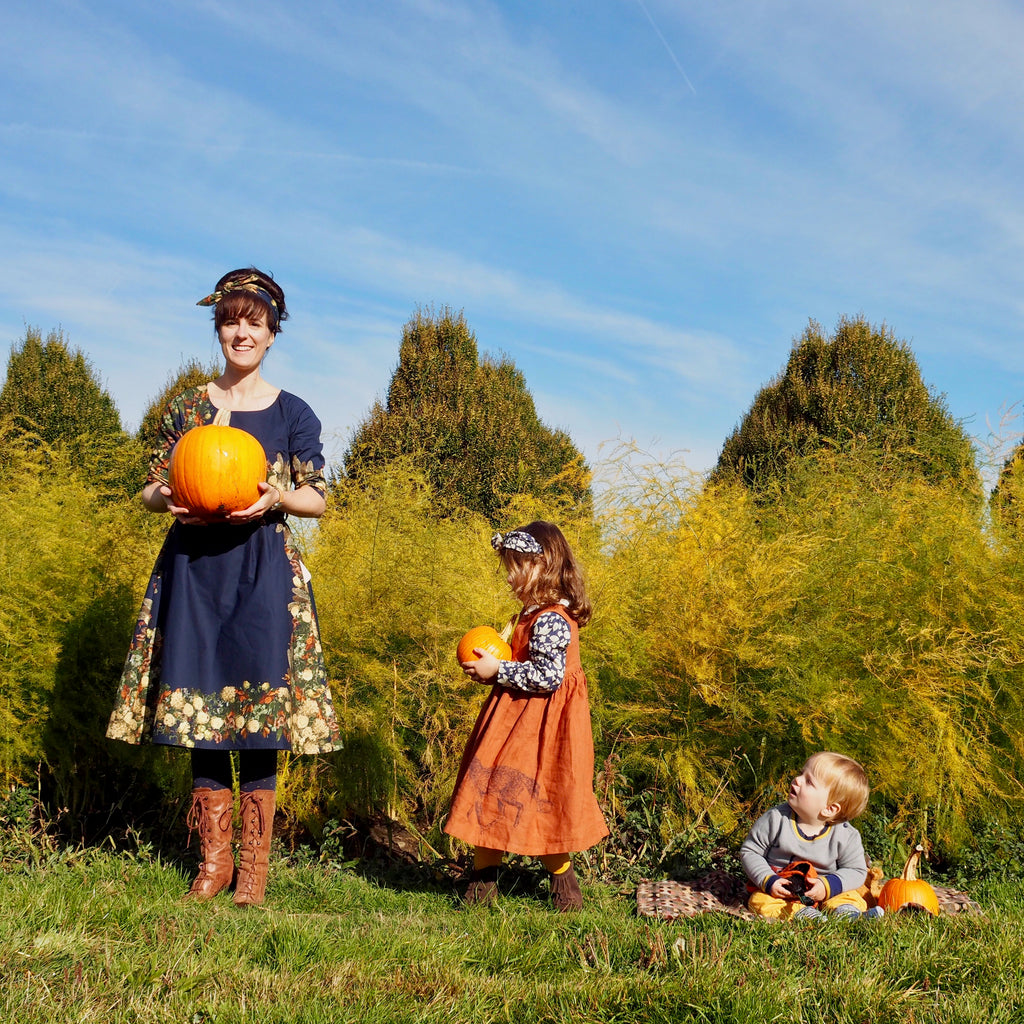 We were lucky enough to see not one, not two, but THREE Palava outfits on one family this week! Carly from Facepaint and Flavour is an old friend of Palava - back from the early days of our little company. She is a management consultant by day, as well as foodie, photographer and 'coelactivist' in her spare time, creating delicious inclusive food recipes, perfect for those who are gluten or dairy free. We highly recommend her wonderful website and instagram for the most mouth-watering recipes!
This week we were in for a special treat as Carly photographed her family day out to a pumpkin patch with her children Annie and Dougie. We spoke to her about her own personal style, her approach to children's fashion about what she loves about Palava!
Tell us about your personal style - what do you like to wear? What makes you feel good? What inspires you?
"Since having the children I've tried to show my identity a little more through what I wear. I love to dress in colour, and wear things that are a little playful or a bit different from the ordinary. I try to think carefully about what I buy and how it will fit in with the rest of my wardrobe - life's too short for uncomfortable clothes, so if I don't truly love it and feel my best in it, it's not going in!"
You're a mum to two little ones. How do you approach dressing them?

"Annie (nearly 5) and Dougie (1) are both unique little characters! We live in Windsor and try to take advantage of having the Great Park on our doorstep as much as possible. We found the most amazing bounty of sweet chestnuts when we took our pictures on a walk in the Royal Estate. I blend family life with working part time in London, a food blog and photography hobby - so life is very full and colourful."
"I would like to say I have an approach to dressing them, but Annie is fiercely independent - I don't get much say in what she wears each day! I've tried to encourage her to take her own path and not be worried about what other people say or think; and make sure she is comfortable."
"She had her first Palava dress for a wedding when she was still small, and has loved them ever since - the more colourful the better, yellow is best of all. Given the choice she'd wear one every day, usually paired with some artfully contrasting (or often clashing) tights and clumpy boots."
"I am very conscious of the amount of waste in children's clothing: they grow so quickly! This means our children wear a lot of 'pre-loved' clothes; but I also try not to shy away from spending money on the occasional special, and well-made item, knowing that we will 'hand it down' in turn - it's so nice seeing friends' children loving our clothes just as much as we did."

You've been a long term wearer of Palava dresses. What keeps you coming back?
"I came for the children's wear and stayed for the adult-sized dresses! Every season I say to myself I don't have room for any more, but then spot something new I absolutely 'must have' thanks to the beautifully illustrated prints Bryony and her team create each season - so unique and fun. If I'm honest, the deep skirt pockets play a big role in my Palava habit too - they are an absolute essential for all of the 'mum stuff' I carry round."
Which pieces do you like best from our autumn collection?
"The Elsie Floral Feathers dress I wore to the pumpkin patch is just gorgeous - such a sumptuous design for Autumn. I also wore it to Harvest Festival and it and will probably be my Christmas Day outfit because it fits so beautifully and comfortably. I also have my eye on one of the 'Rita' dresses because Tencel is lovely and soft to wear, and I could dress up the flared skirt with a big floofy petticoat for parties.
For children the little puffin jumpers and cardigans are adorable, and the winter weight linen dresses are smart enough for special occasions, but durable enough for every day."
Autumn is probably our favourite season at Palava! Tell us what you enjoy about the end of the year.

"Autumn is my favourite season of all! The rich colours are definitely my 'go to' palette, but really for me it's all about the food: slow cooked dishes waiting for when we get home from brisk walks, sweet squashes and allotment treasures in everything from casseroles to cakes."
We hope you enjoyed our special pumpkin themed blog! A Big thanks to Carly for these wonderful pictures.
To see more of our autumn collection for women here.

You can also shop our autumn collection for children here.