Happy International Women's Day!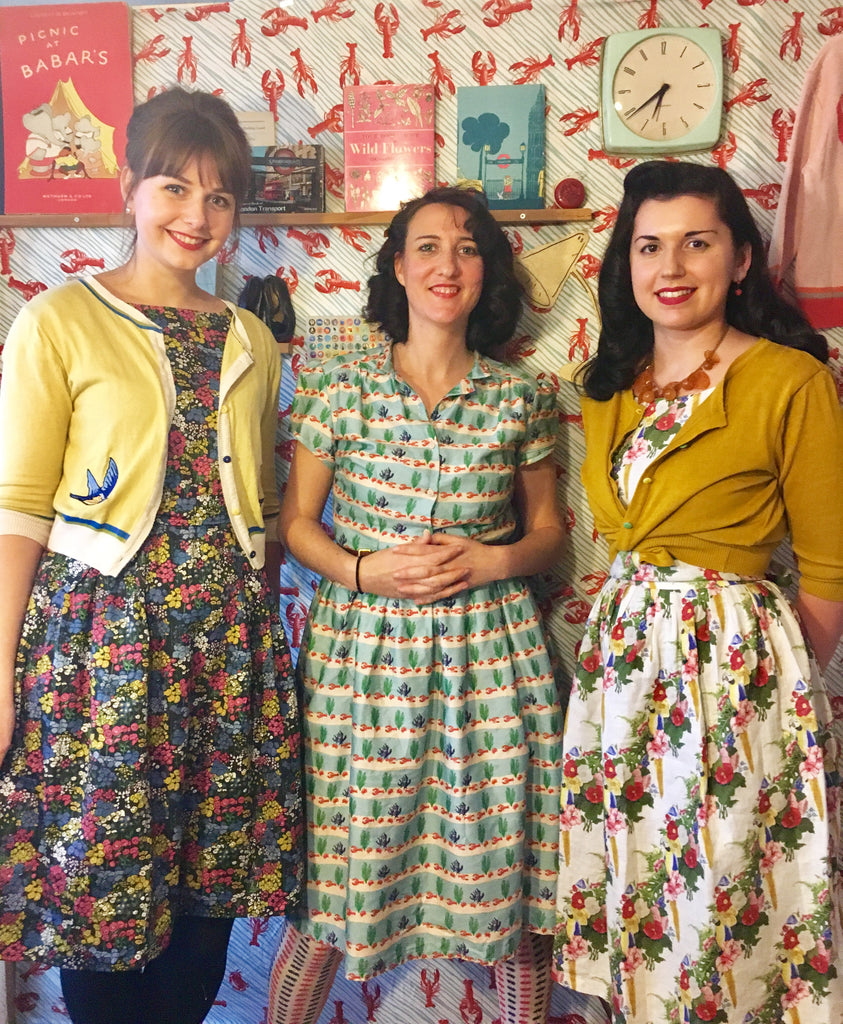 Today marks International Women's Day – a global celebration of the social, economic, cultural and political achievements of women. This year, the theme of International Women's Day is #PressforProgress – a call to action for specific behaviours and attitudes that support women's progress. These include valuing women's success, ensuring credit is given for women's contributions and the celebration of women role models. In this spirit, we thought it was a great opportunity to shine the spotlight on our female-led team at the Palava studio. We've also teamed up with Modcloth and will be featured in their International Women's Day celebration later in the month. Be sure to keep your eyes peeled!
Firstly, meet Bryony. As lead designer and founder, she designs all of our beautiful prints in the studio, draws up new patterns for dress designs and breathes creative life into all aspects of our brand. Bryony created the company over 10 years ago - in that time the business has seen many changes since then, and working in fashion is not without its challenges! But her focus and hard work continues to push us into bigger and better things. 
What does International Women's Day mean to you?
"It's a moment to consider the challenges women have faced historically and the challenges that remain today. Thinking about what needs to be done to ensure women are supported and allowed the right opportunities. It's chiefly a day of celebration and encouraging women to feel proud and acknowledge all the wonderful things they have achieved and continue to achieve!"
What do you like about working in a female-led team?
"The three of us share a great sense of humour and we always make sure we support each other. I feel like we approach one other as equals, that we're all on the same page and understand each other. It really feels like a level playing field. I like to think in the Palava team each person can really be themselves and there are no expectations of having to be one thing or another. Plus we have a similar taste in dresses so it's amazing to work in a team where we are committed to the designs we create and genuinely love wearing them! This also extends to our customers, who are mostly women - we take all feedback about our designs very seriously and really listen and understand the comments and requests our customers have when it comes to making the next collection!"
Next, we have Annabel our studio manager – supervising the day-to-day running of the studio and most importantly – our production! She is also the friendly voice on the phone when one of you gives us a call – and the person responsible for processing all of your orders. Annabel has worked at Palava for over four years; previously she studied childrenswear design at University. 
What drives you?
"Because I live in the countryside, I always knew that I would end up working in London, there's always such a buzz in the design studio. Whether it's photoshoot time or sampling time, there's never a dull moment.  I love seeing the first sample fabrics, then the physical samples themselves and then following their journey through production and finally onto the shop shelves!"
 What is your proudest achievement at Palava?
"My first, and biggest achievement is the fact that I'm working for my dream brand - the one that inspired my degree!  But my proudest achievement within Palava is the fact that I have the role of designing our lovely knitwear! Within my job at Palava, I encounter a real mixture of tasks everyday; I manage production and the trade side of the business and I am the first port of call for our customers! But my main passion is design work, I am lucky enough to design our knitwear collection as well.  The first cardigans I designed were our embroidered swallow cardigans! I remember when they were first released, it's an amazing feeling to see the designs come to life and to hear the feedback from our lovely customers. Plus it's pretty exciting to wear something you've worked on, I'm addicted to our cardigans!"
And last but not least – me! I'm Jennifer – Creative Content and Marketing Manager. I'm responsible for many online aspects of the business, such as our website and social media. I'm also involved with visual aspects of our brand, such as styling and directing our photo shoots. 
Who are your female role models?
"I'm generally inspired by any woman who follows her own path and stays true to herself. I love books, films and art and in my spare time I write fiction and am interested in photography. Many of my creative inspirations come from women. A favourite authors is Colette, a French writer, mime and actress who was very ahead of her time and had a fascinating life, including a stint in the Parisian music halls in the early 1900s! I love the music of the 1950s and 1960s and so many of my favourite artists are from that era, such as Billie Holliday, Yma Sumac, LaVern Baker, Ruth Brown...the list goes on and on!"
What do you love most about working at Palava?
"Being in a supportive team where we all encourage each other and make the most of each day. We take our work seriously but we enjoy the social aspect of work - we have a Tuesday lunch club where each of us cooks for the team, and every day we sit down and eat together and have a proper break from laptops and phones! I've also become more involved with photoshoots and the visual direction of the brand in the year I've been working here. This in itself is an achievement as I'm in a job that allows me to be really creative. I'm particularly excited by our Autumn/Winter season this year and the photoshoot we recently worked on - you're all going to love it!"
We hope you enjoyed reading more about our team and we wish you a very happy International Women's Day! Now it's time for a celebratory cup of tea...cheers!
---