Palava My Way - Ruth and Bea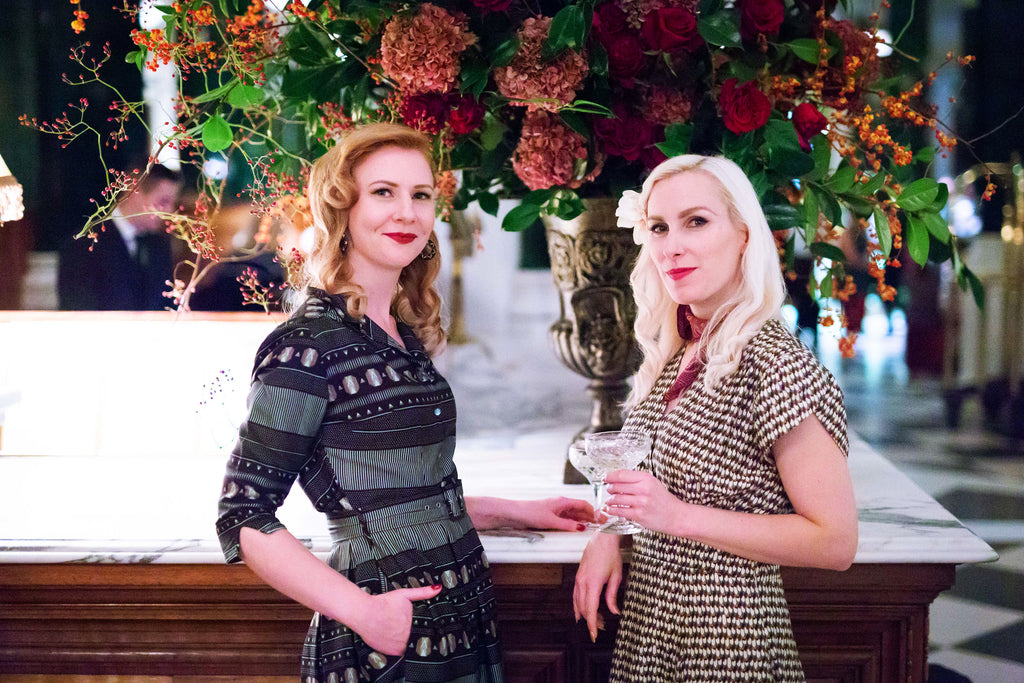 Our latest Palava My Way blog features swing dancers Ruth and Bea! Both fans of Palava, we chatted about personal style, their favourite items from our autumn-winter collection and their thoughts on how to dress for dancing!
A big thank you to our photographer Michael for these beautiful portraits!
Tell us about your favourite dress from this collection and why you choose it!
"Hard to pick just one dress really! I love the Rita Ducks dress as the shade of blue is gorgeous, a sort of Wedgewood blue! The deep neckline and cap sleeves are also really flattering which is always great. I also love the Cynthia Green feather dress which Ruth wore, as the shade of green is a lovely colour (great for red heads too!) The fabric is lovely and thick and such an unusual, wintery print."
Describe your personal style.
"I've always loved Vintage clothes, ever since I was a teenager and all I could afford with my pocket money was the odd charity shop find. I can never quite decide on my favourite era, but I think it is either the 1940's or 1970's. What is great about the 1970's is that there was a lot of revival of the 1940's shapes such as the large pointy collars, the ruching details, cap sleeves and belted tea dresses but it is much easier to come by."
"Working in fashion I definitely went through a phase of rejecting my vintage clothes and slavishly trying to follow the catwalk trends, but I really can't be bothered with that any more, it much too like hard work! I only buy whatever I think will suit me regardless of trend, and I try to either buy more ethically, such as made in the UK clothing which supports a home-grown industry or organic fibres which Palava uses."
"I tend to mix genuine vintage clothes with vintage-inspired pieces such as Palava dresses. With new 'vintage-inspired' items you don't have to worry so much only dry-cleaning them, or that they might fall apart after one wear! (this is essential if you like to wear your best clothes out swing dancing which I do!)"
You're both swing dancers - how did you get into it and what does it mean to you?
"My love of all things vintage (clothes and music) led me to hang out at Jazz and Swing music club nights, and about 6 or so years ago I noticed that everyone was doing the same dance and I was amazed at how everyone knew what to do! Having danced some sort of dance since I was two years old, I was gutted that swing dancing had passed me by completely! So, a little while later when I noticed a swing class poster up in my area I started the classes and got very quickly addicted."
"For me it is the ultimate hobby, as it is good exercise, it is the MOST social hobby I can possibly imagine, and you get to go out with your friends and have a drink and a dance together in some of the most beautiful locations in London (such as The Ned, Where these photos were taken). In day to day life in London, you don't always get much chance to dress up and put on your favourite clothes, but you can do this every week whilst swing dancing.  If you ever feel a little down, swing dancing never fails to cheer you up. I really can't express just how much fun it is!"
How do you approach dressing for dancing? What's important?
"Dressing for dancing is a bit of a fine art, you want something flattering and that you feel good in, but also something comfortable, washable and even better if it is a cool or breathable fabric. I can't say I always get it right, I have torn quite a few of my favourite clothes! I also think about the venue where I am going to dance in, how glamorous is it, or is it more laid back? Is it a particularly hot venue? (in which case the cooler and more breathable the better. Cotton is preferable!). If I think I might have a lot of space to swing-out in, then I am probably more like to wear a skirt that flares out, as they at least it will look pretty for twirling around in! if you are dancing in cramped pub, however, it would be more about practicality, so maybe some high waisted trousers instead."
Which was your favourite dress from our Scottish Highlands collection?
"Very hard to pick one but the shape of the Rita dress is really flattering for my figure and the lovely Marbled Feathers pattern plus the soft feel of the fabric make it perfect for me. All the Palava dresses have incredible prints that are really unique, subtle and very classy so it is hard to choose!"
Tell us more about your personal style.
"Since my late teens I've been very into vintage fashion - it was a way to be a bit different and express myself while also being able to be a little bit glamorous! I have been a bit of a chameleon and tried out lots of different things over the years but have always been a bit of a unique dresser and enjoyed wearing unusual things that stand out while still looking nice. My interest in Hollywood's golden age and the interplay between masculine and feminine clothes on film stars like Marlene Dietrich and Katherine Hepburn have always been my key inspiration."
Tell us more about your passion for swing dancing and the vintage scene. 
"I have always loved dancing in various forms and also enjoy all things vintage, so when a friend told me about the swing dance nights she was going to I was very interested! I went along to a brilliant night in North London called Mouthful O Jam and pretty much fell in love with the whole thing straight away! Everyone looked so great in their vintage outfits and the music was incredible, it was like stepping back in time. I started lessons soon after and it has become a huge part of my life - most of my close friends are also dancers now and there's a huge amount of events to enjoy. It's lovely to be able to go out and know that you'll see a roomful of friends from all walks of life just having a lovely time together. The social dancing environment always feels very safe and welcoming. I also love going to Jive nights with the rock n roll crowd and 60s nights too, so vintage scenes are definitely a big part of my social life!"
How do you dress for a night out of dancing?
"The key thing is to be comfortable and have room to move! It's good to have plenty of movement either through looseness or stretch in what you're wearing so you can bust out any move without ripping anything - although I've seen my fair share of split seams on the dancefloor! Other than that it's all about expressing yourself - I really enjoy employing a bit of vintage charm and getting glammed up for a night out dancing, whether that is with a flower laden hairdo or a glittery bow tie."
Thanks so much to Ruth and Bea for taking some time to chat with us - we think these two look fabulous in their Palava frocks! And a big thank you to our photographer Michael for this beautiful portraits at The Ned London. 
If we weren't in the mood for a glass of prosecco or a mulled wine, we sure are now!
---