Happy Halloween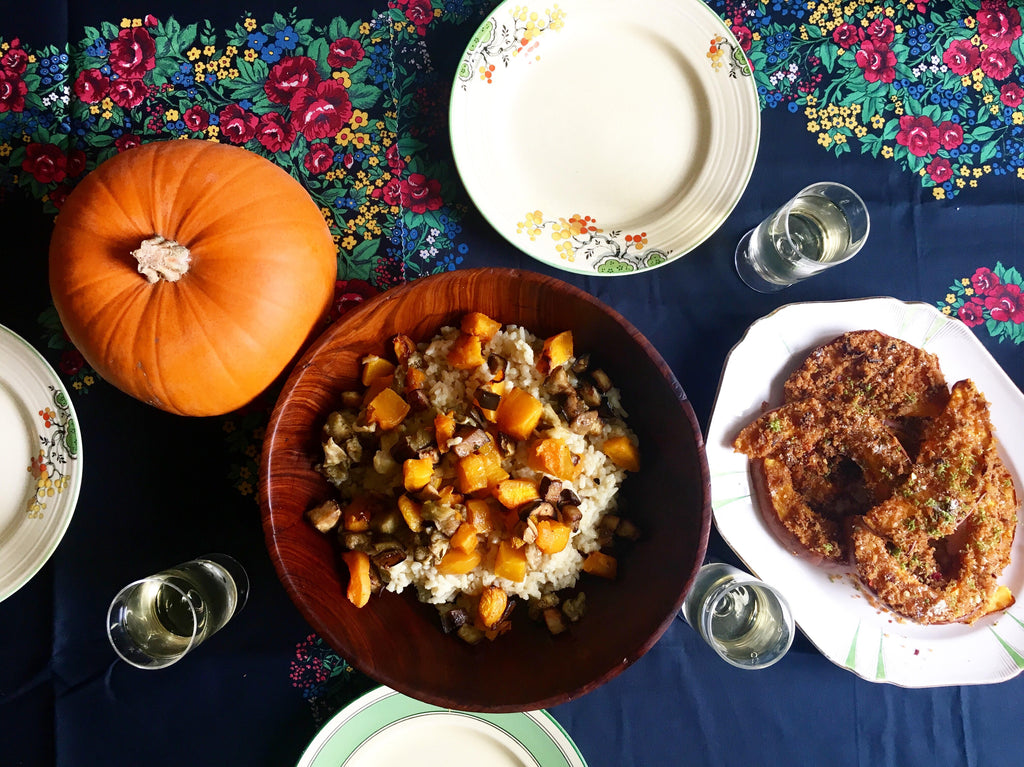 It's that time of year - the nights are drawing in and we are beginning to feel autumn has truly arrived. In recent months, more than one of us at Palava has been yearning for our winter wardrobes and all the fun and excitement of the colder months. The first stop must surely be Halloween!
To get into the spirit of things, we've enjoyed carving our own pumpkins this year, featuring our very own Palava animal characters! If you'd like to enter our pumpkin carving competition, we'll give you £10 to spend in our online store, plus a prize of £30 to the most creative Palava inspired pumpkin! For full details, read on!
First things first, food! We decided to make the most of our pumpkins - so as well as carving them, we conjured up some delicious pumpkin dishes. Two of our recipes come from award winning chef Yotam Ottolenghi, whose cookbook Plenty is a firm favourite with our founder and chief designer Bryony. The first recipe is for these delicious pumpkin wedges, garnished with breadcrumbs, parsley, thyme and lemon rind and served with soured cream.
These were delicious and an interesting, different way to enjoy pumpkin!

We also made this gorgeous risotto – based on Ottolenghi's lemon and aubergine risotto – adding in our own roasted pumpkin chunks. Serve with a glass of cold white wine and you have the perfect autumnal dinner.
Now for the crafty part! We had lots of fun in the studio carving these Palava inspired pumpkins. Annabel chose our Reindeer - as featured on our Mabel dress, Bryony chose a woodland scene and I carved our very own Mr. Fox – star of our recent popular
Mabel Fox Dress.
If you like to enter our special Pumpkin carving competition, we'd love to see your special Halloween pumpkin, inspired by Palava! This could be one of our animal characters, a scene from a storybook, a detail from one of our prints...any ideas sparked by one of your favourite Palava dresses!
If you'd like to use one of the Pumpkin designs we made here of Mr Fox or our elegant Reindeer, you can save the images from the links below:
Palava Fox

1. Print the image, cut out the shape of the reindeer or fox and fix it with masking tape on to the front of the pumpkin.
2. Draw around the design with a pen - and get carving! 
3. Bring your lantern to life with a little tea light candle!
Each entry for the Palava pumpkin competition will receive £10 to spend on our website! The grand prize for the most creative pumpkin will receive £30 to spend. Tag a photo of your Palava pumpkin on Facebook or use #palavamyway on Instagram. The deadline is Thursday 2nd November.

In celebration of Halloween, we're also offering 15% off some off our darker Palava prints. This includes our new Beatrice Black Hungarian Flowers which has already proved to be a very popular piece from our new collection. It's the perfect chance to treat yourself!
Hope you have a fabulous spooky weekend whether you're trick-or-treating, pumpkin carving, dressing up for a party - or simply enjoying the cold autumn evenings curled up at home. Enjoy!
---